8(a) BUSINESS DEVELOPMENT PROGRAM (SDB)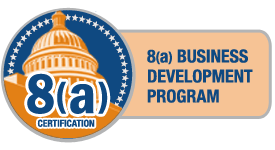 CERTIFIED FINANCIAL EDUCATION INSTRUCTORS (CFEI)
Certification Agency is The National Financial Educators Council
VETERAN OWNED BUSINESS
Service Disabled Veteran Owned Small Business (SDVOSB)
State of Tennessee – Approved Vendor 
Tennessee Department of Education – PREFERRED VENDOR

MINORITY OWNED
Certification Agency – Tri-State Minority Supplier Development Council
Certification Agency – National Minority Supplier Development Council
GSA SCHEDULE (PENDING)
Tri-State Minority Supplier Development Council
Tennessee Supplier of the Year 2010
Nashville TN Incubation Center/Small Business Administration
Jennie Lemons Award Winner 2009
House of Representative Jim Cooper
Congressionally Recognized Financial Wellness Program
Department of Treasury Financial Literacy Council Member
Amos Tuck School of Business Management (Certification)
Madison Wisconsin University Business Strategy (Certification)
University of Wisconsin Madison
Veteran Institute for Procurement
Presidential Financial Literacy Commission 
Members
---
Certified Financial Education Instructor – Financial Literacy Certification (CFEI)
CFEI graduates report that they experience greater enjoyment teaching and achieve better results among the audiences who attend their presentations.
The NFEC's Certified Financial Education Instructor program helps individuals acquire the expertise, credibility, and self-assurance they need to teach money management lessons effectively.
The CFEI coursework meets standards for the highest academic rigor while providing practical lessons that increase your impact as a financial educator. You will develop skills and learn techniques that help you motivate, engage, and move participants of all ages to take positive financial action.
Graduation from the NFEC's financial literacy certification program demonstrates that you are qualified to teach the subject matter and increases your credibility as a financial education instructor. Graduates of the coursework take their place among the most highly-qualified personal finance educators in the nation, with proven ability to teach essential money management concepts effectively to people of all ages.
---
FEI Certification Meets National Standards for Financial Education Instructors
The Framework for Teaching is backed by evidence-based research and widely accepted by educators, administrators, policymakers, and academics. The Framework identifies skill sets qualified educators should possess and performance levels that define instructor capabilities. The Framework for Teaching is the most widely-used teaching model in the United States, and has been adopted as the single model, or one of several approved models, in more than 20 states.
The NFEC partnered with Danielson Group consultants to modify Charlotte Danielson's Framework for Teaching to meet the specific needs of Financial Education Instructors. This collaboration yielded the first and only national standards for financial educators – the 'Framework for Teaching Personal Finance'. The Framework identifies the responsibilities of financial educators proven by empirical studies and theoretical research to produce the highest gains in participant test scores, and provides clear benchmarks to enhance educators' ongoing professional development.
The Framework for Teaching Personal Finance is a research-based set of components aligned with InTASC standards and grounded in a constructivist view of learning and teaching. This Framework breaks down teaching financial literacy into 22 components recognized as best practices in the industry. To date the NFEC is the only organization to clearly define the knowledge, performance expectations, and skill sets in which financial educators should demonstrate competency.
For more information please visit: https://www.financialeducatorscouncil.org/